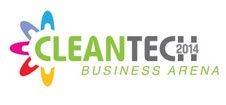 Five top sustainability blogers recently visited Israel in order to gain an understanding of what is been done in the green sector here. Tobias Mendelovici Director of Ocean Business joined the blogers in a tour that included visiting eco buildings such as the one in the photo that is under construction in the University of Tel Aviv. Tour also included visits to solar technologies in the dessert, agritech centers, water treatment facilities, green transport systems and meeting entrepreneurs.
For those interested in the Cleantech sector in Israel a new opportunity lays ahead:
a Professional Cleantech Tour organized by Ocean Business is going to take place on the 15, 16 and 17 of February and after the tour we will visit the Cleantech 2014 Exhibition organized by Masov Group that will take place 18 and 19 of February 2014 on the venue, Congress and Exhibition Centre Air Port City Israel the .
Israel: focusing on CleanTech
Though Israel is a small country with limited natural resources, it stands out as one of the most competitive economies. The country's market economy can be characterized as advanced technology based and globally-oriented. Over the past two decades Israel has become famous for its high-tech capacity, particularly in telecommunications, information technology, electronics and science. Recently Israel has been focusing onCleanTech. There are over than 600 companies in Israel that can be defined as specializing in the CleanTech field.
The Smarter Cities of Tomorrow
The International Opening Session of CLEANTECH 2014 on the Smarter Cities of Tomorrow aims at Addressing the challenges of smart cities in the next two decades; highlighting smart city trends, technologies, services and applications; examining how technology and innovation will enable the smarter cities of tomorrow. Some of the topics that will be discussed: Sustainable development and energy efficiency; the role of the smart grid in the city; intelligent transport systems.
Israel's Natural Gas Industry – Appreciation Gala Event
The Israeli economy has, in recent years, undergone significant changes in terms of fuels. Within the space of a few years, natural gas has become the primary, preferred fuel for electricity generation and for major industries, yielding savings of NIS 20 billion for the economy, alongside a significant reduction in emissions of pollutants due to the declining use of oil and coal. Vast gas reserves found off the coast of Israel are helping to encourage energy initiatives based on natural gas.
An Appreciation Gala Event, within the framework of CLEANTECH 2014, will bring together 300 of the most influential people in Israel's natural gas sector: Entrepreneurs, Legislators, Regulators, Leading Industrialists, Top Bankers etc.
This exclusive event aims to provide an extraordinary opportunity and fertile ground for the creation of beneficial business relationships with the leading players of Israel's natural gas sector.
To obtain further information or to register to the proffesional tour click here: contáctenos
http://oceanbusiness.com.es/wp-content/uploads/2017/03/download.jpg
105
226
Tobias
http://oceanbusiness.com.es/wp-content/uploads/2017/04/pngtobias-logo-300x209.png
Tobias
2013-12-02 15:40:24
2017-04-08 12:21:17
Visit Cleantech 2014 18-19 February and learn about the new technologies that are going to transform the future