Minister Ortega and his delegation spent seven days in Israel in a road show organized by consulting firms Ocean Business & Excem Technologies which aimed to connect Misiones to the Israeli ecosystem of innovation in agriculture
With a size similar to Israel (Misiones 29.801 square kilometres compared to Israel 20.700 km2)  and with only one million three hundred thousand people, the province of Misiones, is located in a strategic location includes been near the border with Paraguay, Uruguay and the most productive region of Brazil. Famous for contending the Iguazu water falls and less known but as important the main grower of yerba mate (Ilex paraguariensis) sometimes spelled maté in English, and it is a traditional South American caffeine-rich infused drink in the world, Misiones contents a large community of small farmers dedicated to agriculture. A delegation from Misiones came to Israel between the 6th until the 13th of June to identify what are the key factors that are driving the Israeli success in agriculture development and look for synergies and common ground that could benefit Misiones. They share in this article their experiences.
"the main aim of my visit is to search for solutions that can help the farmers to increase and improve their yields" said Minister Nestor Ortega on his arrival to Israel, he was accompanied by his wife Mrs Rosangela Schuartzer, by Misiones Province secretary of Agriculture and Production Osvaldo Victor Muller, Director of the Misiones Province Ministry of Agriculture Mario Cebey and Misiones delegate of the Argentina-Israel Business Commission (Cámara de Comercio Argentino Israelí (CCAI))  Samuel Pruczanski.
 However seven days later, by the end of the visit, he admitted that "while we came with a certain view of Israel and a very focal goal, the visit opened far more possibilities for cooperation than I would thought before my visit" said Minister Ortega on the final day of his seven day visit hosted by Ocean Business, with cooperation from Excem Technology both technology and sustainable development consulting firms based in Israel and Spain respectively.
Tobias Mendelovici CEO of Ocean Business who coordinated the visits explains that the aim of the road show was to connect the delegation with the Israeli innovation agriculture ecosystem. "this is our core expertise, connecting the world with Israeli innovation and support implementation and transference of knowledge and technologies". The Road Show lasted for 7 days and included b2b meetings with over 20 agrotech companies, investment banks and venture capital firms, as well as meetings with senior academic staff of the faculty of agriculture in Rehovot, visiting the Volcani institute and its post-harvest department, as well as visiting government organizations such as the Institute of Export, the R&D Matimop, the Chief Scientist Office and the top Industry association as well as the Argentinian Embassy. Also as part of the tour the delegation spent a day in the agromashov fresh product fair, a day in Jerusalem and a one full day tour to the Arava.
After all this meetings Minister Ortega mentioned to the organizers that "The spirit of cooperation exhibited by Israeli institutions is admirable. Though on the ground many things are very different from Argentina, I discovered that there is a whole lot to learn from the Israeli agro ecosystem and many technologies and practices could be applied in Argentina leveraging on the Israeli experience. "We also generated interest from Israeli investors to invest in Misiones and this is good news because it can enhance employment and the exports of products and services from Misiones to other regions"
The last day of the road show was dedicated to visit the Neguev where 70% of the fresh agricultural production of Israel is produced. The first stop was at the   interpretation Arava Research and Development Center funded by KKL-JNF in Israel and by the Israeli Ministry of Agriculture, that displays a microcosmos of the Arava. Then they visited the AICAT, the Arava International Center for Agricultural Training, The visit ended at the vineyard at Zofar.
 "To be in the middle of the desert and find this quality of production is exemplary," said Minister Ortega after the visit to the Arava. "It is an example of what can be done through perseverance and applied research. We do not have a  water scarcity like Israel's, but the way we administer water and resources can be improved, therefore we can learn from Israelis how to improve the management of natural resources." He concluded.
Visiting senior agronomist from Misiones Mr Mario Cebey said that he was impressed with the very defined, organized and systematic way that research and on-the-ground farming was integrated successfully. This cooperation makes the techniques pass quicker to the farmers and the results are notable.
Another visitor Mr Samuel Pruczanski expressed that "Although I keep up to date with innovations in Israel my expectations with this visit organized by Ocean Business and Excem were exceeded," "I saw in reality what I have always read about. Israel is at the forefront of technological innovation and research and development, and this creates immense opportunities. "We have appreciated the Israeli technology since the first day we arrived, from smart irrigation and fertigation systems, to improved crop varieties, precise agriculture to best practice post-harvest techniques" he said.
Visiting agronomist and coordinator of international cooperation of Misiones Mr Osvaldo Muller called by his friends Chiqui stated "We saw documentaries about Israel agriculture but it is one thing to hear about it, and another to see it," said. "We have tasted the quality products of the Israeli farmers and seen the high yields. They take advantage of every opportunity to become more productive and efficient. It is a truly integrated farming system. We can learn a lot from them on this respect".
Engineer Isaac Chocron  (Excem technologies) and agronomist Michael Frohlich (Ocean Business) who are advising the province of Misiones in the agro-technology field said that they will follow what initiated here to ensure that a solid gateway of cooperation between Israel and Misiones is established.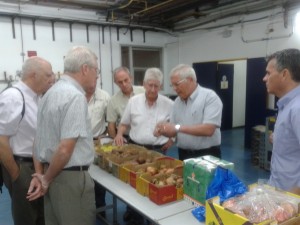 Visiting the post harvest department of the Volcani center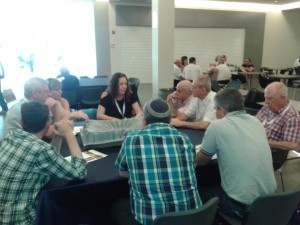 B2B meetings
http://oceanbusiness.com.es/wp-content/uploads/2017/03/Minister-with-organizors-of-road-show-in-the-arava.jpg
1152
2048
Tobias
http://oceanbusiness.com.es/wp-content/uploads/2017/04/pngtobias-logo-300x209.png
Tobias
2014-07-02 00:34:30
2017-03-31 12:51:04
Delegation leaded by Minister for Agriculture of the Province of Misiones, Argentina visit Israel with Ocean Business-Excem